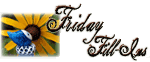 And…here we go!
1. So are we going to eat now? I am famished.
2. A brighter future is what's up ahead.
3. I love to rest.
4. That's so odd of some sort.
5. I walk the walk and I talk the talk.
6. Love and laughter is the true elixir of life!
7. And as for the weekend, tonight I'm looking forward to finishing all my chores ( I am almost done!), tomorrow my plans include going to the garden and buying some stuff and Sunday, I want to make sure that everything is accomplished!
By: lupiemom |
Comments Off
In the past, I always cringed at the thought of having a credit card. Why? Because I cannot forget my experience I had with my first card. Since I was overwhelmed by having the power of being to purchased almost everything even without cash, I end up overspending and my bills ballooned. Fortunately, I was able to pay everything back but because I was so traumatized with what happen I tried avoiding having a credit card.
1. Humpty Dumpty sat on a wall,
Humpty Dumpty had a great fall.
All the king's horses,
And all the king's men,
Couldn't put Humpty together again.
Why was Humpty Dumpty sitting on that wall?
I think Humpty Dumpty wants to think about life and where he is heading to. So, he sat on the wall.
By: lupiemom |
Comments Off
A lot of my friends have been asking me questions about hosting. Since they know that I have my own domain and many of them are interested to start their own blog in their own domain. I told them that there are a lot of options out there that is available for them. But of course, they need to be able to set aside some funds to finance their hosting. Which unfortunately has been the major road block for them.
I heard a very disturbing news tonight. Something that is making me nervous and very paranoid. Seems like after all the devastating typhoon there is also a possibility of an earthquake. And it will hit hard on the Marikina Fault Line. I don't know where the fault line is but we are living on the said city. I am trying to look for a map that would really identify the fault line and this is the only thing I found.