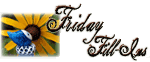 And…here we go!
1. He was a drifter before he met her.
2. Christmas is what I look forward to most this time of year.
3. My best friend is my husband.
4. I need to be honest with you.
5. Appearances can be deceiving.
6. The last person I gave a hug to was Anevay.
When I was still working, I tried wearing stockings. But it seems I am really not the girl who would prefer vanity so after a short while I decided to give up and go on bare. From time to time I wear one because I read somewhere they can prevent varicose veins. You see, one of the things that I inherited from my mom are those spiders that don't leave my leg. And sometimes they are painful that I was thinking stocking could give to suppress the pain.
Got an embarrassing moment this morning. I was rushing some errands before I head home and my last stop is a nearby bank. After withdrawing, I put the cash on the bag, I was doing that without looking on where I am heading. I did not notice that the place was elevated! I fell down with my two knees hitting the ground. It was really painful. I felt the bones on my knees shake. The pain was a combination from joint pains and the fall. It was a good thing I was wearing my jeans or I'll end up bruised.
I am having a hard time looking for a source for my CHOLOROQUINE ( how i wish it can be as easily be purchased online as Discover boxes) . My doctor suggested the pharmacy in St. Lukes but according to them they do not sell the said drug anymore. So last Wednesday, I was chatting with my doctor's secretary about not being able to get the medicine when a fellow patient who was sitting beside me informed me that she got her supply from Generics Pharma. Because of this, my curiosity perks up and asked her why she is taking it also. It turns out she also has LUPUS and was recently diagnosed with pulmonary embolism. And she was not even operated.