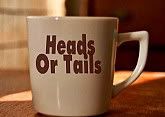 The theme/prompt for today, May 5, is:
EDGE - "Any Past Theme"
Make any kind of post using any past theme! as your prompt. This is a good chance to do a theme you may have missed or just want to do again in a different way.
So for this week, I would be choosing the April 8 prompt – HEADS – Express
It's already May and still my goal to loss weight is turning to be one huge failure. I wanted to be healthy but really that task is so easy to say but hard to accomplish. I am now eating rice and trying to avoid softdrinks and chocolate. Which is the toughest thing to do since I always have a dose of each every day. But I am telling myself that I can live without both because I was able to do so when I was pregnant with my little girl.
1. Do you feel that you have "a score to settle" with anyone?
Nah. I let bygones be bygones.
2. Do you own anything that you think is unbreakable?
Love of my family.
3. Tell us about a crazy thing you did in high school.
Memorized my history book from cover to cover.
I have been vocal about my fondness for stylehive.com. In this site I can look for current trend in fashion. This is also where I got my idea what I wanted to wear and where to buy it. And when boredom bites, I would readily go to this site to perk up my mood and as always it gives me happiness even to just browse to different pages that focuses on different recommendation by users which they fancy and share them to the members (even non members) of the site. And right now there are so many things that I wanted to buy and this site really helps me a lot to prioritize what to buy.